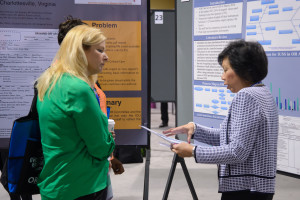 The OR Manager Conference Poster Gallery provides a forum for presenting completed research or in-progress research with preliminary results. It is an opportunity to present research, performance improvement projects, or clinical practice innovations visually using graphs, illustrations, or photographs. We strive to promote communication and collaborative research among nurses, provide a setting for exchange of information and lessons learned, and explore advances in perioperative clinical practice.
Posters in the Exhibit Hall
Posters will be on display in the Exhibit Hall during all Exhibition hours. The dates and times of Poster Sessions, during which poster authors will be available to answer any questions, are below.
Poster Sessions:
Tuesday, September 18: 1:00 p.m. – 2:00 p.m.
Tuesday, September 18: 3:30 p.m. – 4:30 p.m.

E-Poster Gallery
Beginning Monday, September 17, conference attendees may review the posters and take an online quiz for 10.0 CE credit hours. Login details will be distributed via email on September 17.
To access the 2017 ePoster Gallery and CE quizzes click here.
If you need assistance accessing the e-poster gallery, please contact Taylor McCarthy at 301-354-1751.
POSTER ABSTRACTS
All Water is Not Created Equal
Author:
Marcia Frieze, CEO, Case Medical
Abstract: The objective of this poster is to visually indicate variance in water quality and to stress the importance of high purity, low endotoxin water for cleaning and sterilizing surgical instrumentation. Just because water is safe to drink does not deem it safe for device reprocessing.

The five types of water depicted in this poster are: Hard, Tap, Softened, Deionized (D/I) and Reverse Osmosis (R/O) with R/O water being the highest recommended solution for medical device reprocessing. R/O water is available to healthcare facilities through a properly installed R/O system. This poster serves to bring awareness to mineral deposits and microorganisms that are found in water that can contaminate and interfere with sterile instrumentation and devices.

Better water quality leads to better cleaning and sterilization results, a key factor commonly overlooked in healthcare settings. In addition to water quality, thorough rinsing is essential to patient safety and a critical consideration at all stages of medical device reprocessing.
An Exploration of EI and the Perioperative Nurse Turnover Rates; A Pilot Study
Authors:
Beata Mastalerz, DNPc, RN, NEA-BC, CNOR, Associate Executive Director, Northwell Health
Veronica Petersen, MSN, RN, NE-BC, CNOR, AVP Perioperative Services Northwell Health, Northwell Health
Abstract: The purpose of this research study is to explore if a structured perioperative leadership and emotional intelligence (EI) educational intervention is related to increased nurse managers' EI scores as compared to the control group and reduced staff nurses turnover rate.

Research Question
1. Do the EI scores of nurse managers who complete the educational intervention increase as compared to the control group?
2. Is there a reduction in staff turnover rates as a result of the perioperative leadership and emotional intelligence educational intervention?

The study protocol consisted of three steps for the treatment group:
1. The perioperative nurse managers (NMs) employed at one of the New York City hospitals were invited to participate in the EI educational sessions. Before commencement of the educational sessions the NM were invited to participate in the research study. The participants were invited to complete the Wong and Law Emotional Intelligence Scale (WLEIS, Wong & Law, 2002) and the demographic questionnaire.
2. The author conducted a three-hour interactive educational sessions focusing on concept of EI and its application in the perioperative environment.
3. Three months after the educational sessions, the NMs participating in the study were contacted by the author via email with the request to complete the WLEIS questionnaire again and return it via fax to the author.

The study protocol consisted of two steps for the control group:
1. The NMs employed outside of the perioperative area were invited to participate in the study via mass email. The online survey tool Survey Monkey was used to distribute the WLEIS questionnaire and the demographic questionnaire to this group. The initial online invitation was sent at the approximate time that the first leadership training took place.
2. The second set of online request to complete the WLEIS questionnaire was sent approximately three months later.
There was no educational intervention extended to the control group participants and they will not participate in the leadership training.

Outcomes
Data collected during this study is currently being analyzed, however the author hypothesizes that:
1. Compared to the control group, the EI scores of nurse managers who completed the educational intervention will be higher three months post training.
2. Perioperative leadership training focusing on EI does relate to a reduction in the staff nurses turnover rate at six months post training.
Apples to Oranges: Setting Turnover Targets Based on Surgical CMI
Authors:
Gail Pietrzyk, DNP, RN, CNOR, Corporate Director Surgery, Universal Health Services
Hazel Darisse, DNP, RN, Assistant Chief Nurse Officer, George Washington University Hospital
Laura Reynolds, Vice President Customer Success, SYUS
Abstract: Purpose/Objectives:
To share a novel approach when looking at OR Turnover Times and target setting based upon Surgical CMI.

Content:
Description of TOT Project at Universal Health Services with 27 acute care hospitals located throughout the United States.  Hospitals range from small community facilities to Academic Medical Centers.

Phase 1:  Define OR Turnover Time collect existing data, setting global Turnover Time target.

Phase 2:  Stratify Turnover Time targets based upon Surgical Case Mix Index

Phase 3:  Benchmarking external to Universal Health Services

Strategies:
Individual strategies used included Lean Rapid Improvement Events, implementation of PACU Pull Concept, standardization of room cleaning process and products.

Outcomes:
System wide Turnover Time reduction from 28 minutes to 24 minutes. Increased sense of equity with target setting.

This is an ongoing journey with our health system.
Assessment of the Persistent Antimicrobial Efficacy of a CHG/IPA Preoperative Skin
Authors:
Tera M Nordby, BS, Clinical Research Specialist, Microbiologist, 3M Health Care
Muhammad Hamid Bashir, MD, CCRP, Microbac Laboratories, Inc.
Dan J Morse, MS, 3M Health Care
Abstract: Background: A common skin prep is 2% chlorhexidine gluconate (CHG) in 70% isopropyl alcohol (IPA). The fast-acting action of alcohol and the persistent effect of CHG effectively reduces bacteria on skin. A 2% CHG/70% IPA in combination with an acrylate copolymer (2% CHG/70% IPA (polymer)) was evaluated for antimicrobial persistence on the abdomen and groin at 48 and 72 hours post-prep.

Methods: A randomized, controlled study in healthy volunteers evaluated antimicrobial persistence of 2%CHG/70% IPA (polymer) prep compared with saline. Each subject received both products on the abdomen and/or groin. Effectiveness and nontoxicity of neutralizers in the sampling solution were demonstrated. Volunteers with adequate body region bacterial counts were enrolled. Samples were collected by cup scrub. After baseline collection, the regions were prepped with 1 of 2 study products. A sterile dressing was secured over prepped sites. Skin irritation was evaluated prior to sampling.

Results: CHG/IPA (polymer) has a log10 recovery/cm2 significantly lower than baseline 48 hours post-prep (0.72 versus 3.53 abdomen, p-value < 0.0001 and 2.82 versus 5.77 groin, p-value < 0.0001) and 72 hours post-prep (1.09 versus 3.53 on the abdomen, p-value < 0.0001 and 2.87 versus 5.77 groin, p-value < 0.0001) on both anatomical regions. CHG/IPA (polymer) has a log10 recovery/cm2 significantly lower than the negative control (saline) at 48 hours post-prep (0.72 versus 2.55 abdomen, p-value < 0.0001 and 2.82 versus 5.19 groin, p-value < 0.0001) and 72 hours post-prep (1.09 versus 2.55 abdomen, p-value < 0.0001 and 2.87 versus 5.26 groin, p-value < 0.0001) on both regions.

Conclusion: CHG/IPA (polymer) has a log10 recovery/cm2 significantly lower than baseline at 48 hours post-prep and 72 hours post-prep on both regions. CHG/IPA (polymer) has a log10 recovery/cm2 significantly lower than the negative control (saline) 48 hours post-prep and 72 hours post-prep on both regions.

This research was funded by 3M Health Care.
Breathe Easy; Clearing the Air in the OR
Author:
Robert Scroggins, BSN, RN, CMLSO, Clinical Programs Manager, Buffalo Filter
Abstract: The operating room is thought to be the cleanest part of a hospital, however indoor air pollution in the OR can cause a multitude of health issues for staff, surgeons and patients. There are nanoparticle pollutants in surgical smoke that bypass the body's mucociliary defenses and precipitate in the alveoli, where they can cause disease formation such as atherosclerosis, thrombogenesis, COPD/ Emphysema, and asthma. These particles can cross the air/blood barrier and travel throughout the blood stream and lymphatic system. Studies have shown that the concentration of some carcinogenic chemicals in electrosurgery smoke is 7-10 higher than in secondhand tobacco smoke. It has been further shown that OR nurses have twice the occurrence of respiratory illness than the general population. There have been documented cases of disease transfer from ESU smoke as well.
With this information in mind, we can have better air quality in the OR.
Broad-Spectrum Microbicidal Activity of Tinted and Colorless 2% Chlorhexidine Gluconate (CHG)/70% Isopropyl Alcohol (IPA) -2% CHG/70% IPA (Polymer) Using a Modified Time-Kill Procedure
Authors:
Linda K. Olson, BS, Clinical Research Specialist, Microbiologist, 3M Health Care
Kathryn Dormstetter, BS, Microbac Laboratories
Abstract:
Background:
A common preoperative skin preparation used in the U.S. is 2% chlorhexidine gluconate (CHG) in 70% isopropyl alcohol (IPA). It is important for these types of products to have activity against a broad spectrum of microorganisms. This in vitro method measured broad-spectrum microbicidal activity by exposing a wide variety of clinically relevant microorganisms to the test products and enumerating the
surviving organisms at various exposure times. Since some antimicrobial agents are inactivated by serum, activity of the test products was also evaluated against a subset of organisms in the presence of an organic soil load.
Methods:
Each test product was exposed to a known population of microorganisms at a specified temperature. The activity of the antimicrobial test products was stopped, using validated neutralizers, after a 3-minute exposure time. The test products were plated to enumerate surviving organisms and the percent reduction based on the inoculum was calculated. Testing was performed on a total of 48 reference
strains and 144 clinical isolates, including drug-resistant strains. In addition, activity of the test products was evaluated against 3 species of drug-resistant organisms in the presence of a 5% organic soil load after a 3-minute exposure period.
Results:
A graphical representation of the results will be displayed on poster.
Conclusion:
The tinted and colorless 2% chlorhexidine gluconate/70% isopropyl alcohol polymer-containing formulations both showed >99.999 percent reduction at 3 minutes for all organisms tested, including clinical isolates and drug-resistant strains.
The nonpolymer control also showed >99.999 percent reduction at 3 minutes for all organisms tested.
The tinted and colorless 2% chlorhexidine gluconate/70% isopropyl alcohol polymer-containing formulations both continued to show >99.999 percent reduction for all organisms tested in the presence of a 5% organic load at 3 minutes, indicating that the products are not inactivated by serum.
This study was sponsored by 3M, and performed by Microbac Laboratories, Inc. under contract with 3M.
Can Surgical Technology Reduce Surgical Staff Postural Demands during Total Knee Arthroplasty?
Authors:
Laura Scholl, MS, Sr. Staff Engineer, Stryker
Emily Hampp, PhD, Sr Staff Engineer, Stryker
Kevin Barga, MS, RN, CCRP, Sr. Project Manager, Styker
Anil Bhave, PT, Clinical Director Orthopedic Rehabilitation, Rubin Institute of Advanced Orthopaedics, Sinai Hospital
Antonia F Chen, MD, Orthopaedic Surgeon, Birgham and Woman's Hospital
Abstract: Introduction: Hospital staff routinely take on ergonomically challenging tasks with one study indicating 62% exhibited non-neutral shoulder positions and 53% had non-neutral back positions while working in the OR. The current study examined an OR surgical assistant's posture while assisting with manual total knee arthroplasty (MTKA) and robotic-arm assisted TKA (RATKA).

Methods: An OR surgical assistant's posture and muscle activity were monitored while assisting a single surgeon who performed three MTKA and three RATKA on cadaveric knees. The assistant's role included assisting the surgeon with soft tissue retraction, instrument placement, removal of cut bone, and hand instruments to the surgeon. Kinematic and EMG sensors were used to monitor the assistant's lower back and shoulder movement and muscle activity. Ergonomic risk was assessed using a scoring system that considered percentage of time in a range of movement zone, number of repetitions, length of time in a sustained position, and average muscle activity.

Results: For MTKA, the assistant had the highest ergonomic scores during bone cutting and instrument placement. For RATKA, the assistant had limited participation during bone cutting, and no instrument placement was required. For surgical tasks unique to RATKA, such as array placement and bone registration, ergonomic scores were lower than MTKA tasks. For both MTKA and RATKA, there was minimal flexion of the lower back.

Discussion: Results indicated RATKA may reduce ergonomic risks to a surgical assistant during TKA. This reduced risk was attributed primarily to the assistant no longer needing to participate in instrument placement and reduced participation in soft-tissue retraction throughout the case. Future studies are needed with larger sample sizes as well as in an OR setting to fully understand how RATKA may reduce potential ergonomic risks to a surgical assistant.

References: (1) OR Manager monthly. 2005,Jul;21(7):6-8. (2) Abdollahzade, Health Promotion Perspectives. 2016,6(1):17-22
Comparison of Two Preoperative Skin Preparations in Resistance to a Repetitive Fluid and Wiping Challenge Using a Seeded Bacteria Model and High Performance Liquid Chromatography (HPLC) Analysis
Authors:
Deb Schwab, BA, Microbiology Specialist , 3M
Joan Paulson, BS, Research Specialist, 3M
Dan Morse, MS, Technical Statistics Specialist, 3M
Kimberly Prinsen, MSN, Technical Service Specialist, 3M
Abstract: Background: Preoperatively, skin is treated with antiseptic products to minimize the risk of surgical site infections by reducing microorganisms on skin. Chlorhexidine gluconate (CHG) is an antimicrobial used in preoperative skin preparations because of its broad-spectrum activity and persistent properties.  However, chlorhexidine is water-soluble leaving the possibility a CHG formulation may be removed during surgery when prepped areas are exposed to fluids.

An investigational 2% chlorhexidine gluconate (CHG)/70% isopropyl alcohol (IPA) skin prep containing an acrylate copolymer (polymer) and a marketed 2% CHG/70% IPA prep without the polymer were evaluated for antimicrobial efficacy and CHG retention on skin following exposure to fluid and wiping challenges.

Methods: In 2 separate studies, 2%CHG/70%IPA(polymer) and 2%CHG/70%IPA were applied to excised porcine skin. Test sites were challenged with repetitive saline soak and wiping to simulate wet surgical conditions.  Study 1 compared the skin preparations before and after fluid and wiping challenges for antimicrobial efficacy using a seeded bacterial (tetracycline-resistant Staphylococcus aureus) model.  Study 2 evaluated CHG in samples recovered from prepped and challenged sites using HPLC analysis.

Results: The mean log reduction was 3.47 log10 CFU/cm2 on challenged sites prepped with 2%CHG/70%IPA(polymer), and 2.91 log10 CFU/cm2 on sites prepped with 2%CHG/70%IPA; a 0.56 log difference (P=0.011). The mean CHG content remaining on challenged sites prepped with 2%CHG/70%IPA(polymer) was 30.86 µg/cm2 and 8.73 µg/cm2 for 2%CHG/70%IPA prepped sites; a 22.13 µg/cm2 difference (P<.001).

Conclusion: Addition of a copolymer to a CHG-containing preparation resulted in greater antimicrobial efficacy and CHG retention in this repetitive saline soak/wipe model.

This study was sponsored and conducted by 3M.
Competency, Confidence, Knowledge, Retention: Is Simulation The Answer?
Authors:
Mary Sutton, BSN, RN, Nurse Manager Ambulatory Surgery, PACU, Pre-operative Center, Lahey Hospital and Medical Center
Amy Dooley , MS, RN, Clinical Educator Amb Surgery, PACU, Pre-operative Center, Lahey Hospital and Medical Center
Joan O'Connell, BSN, RN, Assistant Nurse Manager PACU, Lahey Hospital and Medical Center
Abstract: Identification of the Problem/overview: Annual competency assessment for RN's is a regulatory requirement. The traditional method of assessing annual competence has been objective testing and observation. Learning theories suggest adults learn best by doing. Could changing our assessment methodology increase learning, confidence and improve retention of knowledge about high risk/low volume events in the Perianesthesia environment?

EBP Question/Purpose: Can high fidelity simulation (HFS) of high risk/low volume events increase learning, confidence and improve knowledge retention in the Perianesthesia nurse?

Methods/Evidence: Kolb's theory of experiential learning was used for this EBP project. A literature review using CINAHL, PubMed, and OVID databases yielded 15 articles. The review of literature indicates that adults learn best by hands on participation. Adult Learning Theory states that 90% of what we say and do is retained, while only 20% of what we read and hear is remembered.  Therefore, simulation offers opportunity to coalesce didactic learning with hands on experience.  Simulation can equip learners with skills that are transferable to clinical settings that lead to improved self-confidence and clinical judgment. Three high risk, low volume perianesthesia scenarios were created for simulation. Sixty-two nurses attended annual skills fair where these scenarios were enacted. A facilitator was present during each scenario followed by a video-taped debrief. A written evaluation of the experience was obtained.

Significance of Findings/Outcomes: A Likert scale (0-5) was used to measure self-perception of learning and confidence. The comparative data collected in 2016 and 2017 demonstrated increases in learning (4.8 to 4.95) and in confidence (4.7 to 4.86). Qualitative data was also collected using open ended questions. Written comments included, "I learn more with hands on teaching", "Hands on and discussion after is beneficial".  "Acting it out makes it easier to commit to memory", "Definitely retained information from last year", "Reviewing emergency situations helps me to remember throughout the year".

Implications for Perianesthesia Nurses and Future Research: HFS is of value to Perianesthesia nursing practice and education. Nurses demonstrate increased learning, confidence, and retention of information using simulation.  Future studies are needed to determine if HFS can be effective as a tool for orientation of novice Perianesthesia nurses.
Culture Change in the OR: Letting the Staff Lead Decision Making
Authors:
Nicole Schliecker, MSN, RN, CNOR, Unit Director, Operating Room, UPMC Presbyterian Shadyside
Christine Peabody, BSN, RN, CNOR, Clinician, Operating Room Education, UPMC Presbyterian Shadyside
Abstract: As a Magnet facility each nursing unit is charged with creating a unit based council (UBC) with frontline nurses and support staff at the helm. The Operating Room (OR) had a UBC but had evolved into an ineffective group with little outcomes, frequent negativity, and lack of organization. With hire of a new OR Unit Director in May 2016, the UD set out to revitalize the UBC with the aim to create a more effective shared leadership structure.

The OR partnered with an Improvement Specialist to design an organized improvement plan to include a UBC Toolkit. After 4 months, the new UBC was evaluated by conducting a survey of current UBC members and all OR staff with favorable results. A second survey will occur at the 1 year post implementation mark. The purpose of this session is to share our journey to effective shared leadership in the OR.
Developing an Effective Morbidity and Mortality Conference for Operating Room Nursing Staff
Authors:
Amy Brunson, BSN, RN, CNOR, Charge Nurse, Scott & White Medical Center - Temple
Phyllis Hooten, PhD, RN-BC, Nurse Scientist, Scott & White Medical Center - Temple
Cari Furst, PhD, RN-CNE, Clinical Educator II, Scott & White Medial Center - Temple
Abstract: Introduction/Background:
The Morbidity and Mortality Conference (MMC) allows surgeons to conduct peer-review assessments of patient outcomes for improving patient care. In recent years, nursing has begun to have Morbidity and Mortality Conferences to allow for open discussion of patient complications, high-risk situations, and deaths, where current practices and systems are reviewed and measured against the most current evidence available.

The purpose of this study is to develop a plan for providing monthly MMCs that perioperative department nursing staff report are of value and have a positive impact on their practice. Specifically, responses on pre and post surveys will be compared to determine if there was a positive impact and an increase in attendance.

Methods:
A mixed methods design approach was utilized involving a questionnaire to assess the change in perception of the MMCs. Nursing MMCs are held every 1-3 months and are presented by staff registered nurses and or surgical technologists. Content is selected by management based on root cause analyses or errors that have recently occurred. All registered nurses and surgical technologists are highly encouraged to attend the nursing staff MMCs. Staff will be invited at the end of a conference to complete a survey. Study participants will complete a 13 item survey. The survey was developed by research team after a review of the literature and reviewed by three nurse experts who have experience in perioperative practice, staff education, and quality. After the initial survey results are reviewed and any changes to the conference format are made, the staff will be resurveyed within nine months.

Results:
Nursing staff provided their input on the pre-survey on ways to improve the format for Nursing M&M Conferences. Based on this contribution trends were found and the following changes were made:
1. Provide a tip sheet or PowerPoint to hand out at the conference.
2. Involve management more.
3. Have more participation with the nurse & tech.
4. Find a good catch for each conference.
5. Include more information on policies/procedures.

A total score on nurse perception for the M&M conference will be created adding the scores for questions 1-4 and 7 (1= strongly agree; 2=Agree; 3=Neutral; 4=Disagree; 5=Strongly disagree), with lower scores showing a favorable perception of the conferences. Survey questions were asked to determine if Nursing M&M Conferences are of value and have a positive impact on their practice. Pre-survey mean from all respondents is 1.92 indicating staff strongly agree to agree that Nursing M&M conferences are of value and have a positive impact on their practice. Post-survey mean from all respondents was 2.184. Similarly, when pre- and post-survey data was compared for those who completed both surveys to determine the change in perception, pre-survey mean was 9.23 while post-survey mean was 10.68. This indicates that the nursing staff preferred the original conference format over the modified conference format based on recommended changes from the nursing staff.

Data Analyses
While the data indicates there was negative perception after the modifications to the format of the conferences, there was overall positive perception both before and after modification on the purpose of Nursing M&M Conferences. It was noted that at the time of the second survey, the scheduled Nursing M&M Conference was postponed at short notice due to the need for administration to discuss the negative effects regarding a recent policy change. This could have negatively impacted the survey.

Implications:
Based on post-survey data it is recommended to continue hosting Nursing M&M conferences to improve the registered nurses and surgical technologist's professional practice.

Support for Research:
No grants or other funding provided for this project.
Disruptive Innovation - 5 Strategies to Overcome OR Staffing Fluctuations
Author:
Katharine Geiger, MSN, RN, CNOR, Assistant Clinical Director Perioperative Nursing, The Hospital of The University of Pennsylvania
Abstract: Operating rooms across the country are plagued with staffing challenges, often on a daily basis. Management of these issues is compounded by a lack of qualified operating room nurses to provide supplemental staffing as needed. Staffing fluctuations can have a significant financial and operational impact on an operating room and can negatively impact existing staff resulting in a decrease in morale and an increase in burnout. We have partnered with nursing leadership across our health system to develop strategies to standardize the recruitment, training and retention of Operating Room nurses. We have also collaborated to create and implement an OR nursing float pool which provides experienced staff to overcome and compensate for staffing fluctuations in operating rooms across the health system. Additionally, these strategies have resulted in significant reductions in vacancies, turnover and overtime.
Does an Acrylate Copolymer-Containing Preoperative Skin Preparation Improve Retention of CHG During Surgical Irrigation/Wiping Challenge?
Authors:
Joan E. Paulson, BS, Clinical Research Specialist, Microbioligist, 3M Health Care
Dan J. Morse, MS, 3M Health Care
Muhammad H. Bashir, MD, Microbac Laboratories
Angela Hollingsworth, BS, Microbac Laboratories
Abstract: Introduction: Preoperatively, skin is treated with topical antiseptic products to reduce risk of surgical site infections by reducing microorganisms on skin. Chlorhexidine gluconate (CHG) is an antimicrobial used in preoperative skin preparations because of its broad-spectrum activity and persistent properties. However, chlorhexidine is water-soluble leaving the possibility a CHG-formulation may be removed during surgery when prepped areas are exposed to fluid and repeated blotting. The objective of this study was to evaluate the impact that the addition of an acrylate copolymer has in a CHG-containing preparation in minimizing CHG loss during simulated surgical irrigation and wiping procedures when compared with a CHG-containing preparation without a polymer.

Methods: In this prospective-randomized, paired comparison study, 21 healthy volunteers were enrolled and had 2 test preparations, 2% CHG/70% IPA (polymer) and 2% CHG/70% IPA, applied to their back. Test sites were randomized to pre-challenge (no repetitive saline soak/wipe) or post-challenge (repetitive saline soak/wipe). Samples were collected using a modified cup scrub method; HPLC analysis measured CHG content. Study endpoints: CHG (µg/cm2) removed during challenge; CHG (µg/cm2) remaining post-challenge. Skin irritation was rated pre- and post-product application and adverse events were collected. A Mixed Model ANOVA compared products for response of CHG concentration.

Results: 2% CHG/70% IPA (polymer) had significantly more CHG on skin than 2% CHG/70% IPA, both pre-challenge (14 µg/cm2 more; p=0.001) and post-challenge (29 µg/cm2 more; p< 0.0001). Significantly less CHG was removed from 2% CHG/70% IPA (polymer) sites (47.6 µg/cm2) than from 2% CHG/70% IPA sites (62.6 µg/cm2) post-challenge; the difference (15 µg/cm2) (p=0.012). No skin irritation or adverse events were reported.

Conclusions: Addition of a copolymer to a CHG-containing preparation resulted in more CHG on skin, both pre- and post-challenge, and less CHG removed in this repetitive saline soak/wipe model. Both preparations were well-tolerated.

This study was sponsored by 3M, and performed by Microbac Laboratories, Inc. under contract with 3M.
Effective Block Schedule and First Case on Time Starts
Authors:
Tracy Raymond, BHA, MHA, CRCST, CHL, Peri-Operative Business Manager, Presence Health, St. Joseph Medical Center
Doreen Jantz-Makkofski, MSN, RN, CNOR, Surgical Services Director, Presence Health, St. Joseph Medical Center
Abstract: Effective block scheduling leads to an efficient surgery department and more satisfied surgeons. In addition the percentage of first case on time starts eliminates waste, increases patient satisfaction, and allows for more efficient scheduling of cases.
EMR Driven Surgical Optimization - Leveraging Technology to Improve Surgical Outcomes
Authors:
Lindsey Satterfield, BS, Lead Applications Engineer, TriHealth
Christopher Cionni, BS, Solution Leader, TriHealth
Thomas Hester, BS, RRT, Lead Applications Engineer| Clinical Solution Center, TriHeath
Patrick Haney, BS, Lead Application Programmer Analyst , Trihealth
Adam Liette, BS, Solution Leader, TriHealth
Abstract: Purpose/Objective:

An overview of the EMR driven technology TriHealth implemented to provide clinicians with a variety of tools to follow a patient through the continuum of care starting with the physician's decision for surgery through 90 days post discharge.

Content:

TriHealth constructed EPIC based workflows that streamline the ability of program members to navigate and guide patients through the entire surgical experience. Developing clinical pathways, standardized workflows, automated patient flagging and documentation tools, has assisted clinicians to promote high quality and efficient care. Patient outcomes were captured by engineering reports and dashboards that are readily available for OR Team members and Administration.

Strategies for implementation:

TriHealth organized physician-led, multi-disciplinary teams to create a new perioperative model of care.  An education and training plan was developed to ensure all team members would be successful in this new program.  Implementation for this new model of care was a phased rollout starting with the colorectal service line and then expanding the program to additional service lines.

Outcomes:

Through the creation of new clinical documentation tools and electronic patient flags, patients automatically get loaded into a registry used to create quick trending dashboards and drill down reporting.  These tools help clinicians view trending data that drives improved clinical outcomes as well as reducing the cost of care.  Implementation of our dashboards indicate that we have demonstrated 7% improvement in readmission, decrease length of stay from 7.19 days to the current average 4.38 days and a 64% decrease in surgical site infections for the colorectal patients.
Enhancing Patient Experience through Communication: The Development and Implementation of a Nurse Liaison Program
Authors:
Michael Tagadaya, MSN, RN, PACU Nurse Manager, NYU Langone Orthopedic Hospital
Linede Kraemer, MA, RN, CNOR, NE-BC, CSSM, OR Director, NYU Langone Orthopedic Hospital
Abstract: Delays and challenges throughout a perioperative experience can negatively impact patients and family members, particularly if they do not have a consistent and reliable source of communication. The NYU Langone Orthopedic Hospital team created the role of Surgical Nurse Liaison (SNL) in an effort to improve the perioperative patient experience. The primary role of the Surgical Nurse Liaison, a Registered Nurse, is to provide support and comfort by serving as a link between family members and their loved one before, during and after the surgical procedure. Registered Nurses in this role possess knowledge of the surgical procedures and experience in the post-anesthesia domain. Post-operatively, the SNL arranges a consult between the family and the surgeon and advises the latter of any concerns by the family members. Through collaboration with the PACU nurses, the SNLs help family members navigate perioperative services by escorting the family members to the unit. In order to be efficient, the SNL facilitates patient recovery by informing patients and family members of available hospital services that might ease their stay. The role of the SNL allows PACU nurses more time to focus on direct patient care, thereby increasing clinical productivity. In addition, they assist by reinforcing discharge instructions and compliance to a patient's treatment regimen during recovery. Since its implementation in 2012, the program has helped enhance the overall patient and family satisfaction as reflected in Press Ganey Scores. These are measured by the following metrics: Staff Treat You with Courtesy and Respect, Staff Ensure That You Were Comfortable, Promptness in Responding to Needs, Informed about delays during visits and Likelihood of Recommending.
Hospital and Law Enforcement Interaction: Clearing the Path to Collaboration
Authors:
Adam S. Royer, MS, BSN, RN, EMT, FACHE, CNOR, TCRN, NREMT, Assistant Vice President of Surgical Services, Erlanger Health System
Jeneen Carman, DNP, RN, NEA-BC, CEN, Assistant Vice President Emergency Services, Erlanger Health System
Justin Kilgore, Sergeant, Sargent; Traffic Unit, Chattanooga Police Department
Abstract: While limiting the loss of life is top priority of both hospitals and law enforcement (LE), when it comes to sharing information between the two entities, significant confusion often results surrounding what can be shared and under what circumstances it's appropriate to disclose information. This confusion leads to strained working relationships which challenge front line hospital teams as well as LE. These challenges distract from care of the patient as well as the criminal investigation and can erode the prevention of loss of life but also justice. Administrators from both disciplines recognize the need for collaboration, cooperation and combined effort between LE and hospital. Many hospital interactions with LE frequently involve victims with significant or catastrophic trauma. Both trauma surgeons and the trauma team were integral in developing a process for efficient, effective and timely interactions. As the need for collaboration was already evident to both LE and hospital administrations, the initial step involved a face to face meeting with the two groups, aimed at developing trust, recognizing challenges unique to each group and establishing an agreement to invest resources to improve the current process. Following the first successful collaborative meeting, key team members from both the hospital and LE were identified to lead the initiative. Through the multidisciplinary team, the "why" and "what" were identified as drivers in developing an integrated approach to meet patient care and investigative goals of each team. Using recommendations from the American Hospital Association and applicable federal, state and local laws, a template was developed identifying the information that can be shared and under what circumstances sharing can occur. The template further provides documentation of each occurrence. Both the hospital front line staff and LE have been educated on this program and the team plans on expanding the education to additional regional LE agencies.
How a Regional Surgical Collaborative Impacts Surgical Quality
Author:
Larry Adams, MSN, MBA, RN, SCSQC Program Director, South Carolina Surgical Quality Collaborative
Abstract: Regional surgical quality Collaboratives are improving surgical quality and cutting costs by building regional relationships that leverage information sharing to improve outcomes through nurse abstracted case reviews.

The South Carolina Surgical Quality Collaborative (SCSQC) is a new regional surgical quality Collaborative focused on improving general surgery outcomes in South Carolina. It is a joint effort which brings together the skills and resources of Health Sciences South Carolina, the South Carolina Hospital Association, The Medical University of South Carolina, and The Blue Cross Blue Shield of SC Foundation to create a web-based data collection system to provide real time outcomes data to participating surgeons, as well as establishing a supportive network for sharing best practices and promoting data driven quality improvement.
How Centralizing and Streamlining the Vendor Management Process Can Impact Your Bottom Line
Authors:
Mary Pat Gilligan, DNP, RN, CNOR, NEA-BC, Execuctive Director of Perioperative Nursing, TriHealth
Kaylee Arnold, Senior Business Analyst, CaseCheck
Nicki Osie, CBSPDM, Manager Central Sterile Supply, TriHealth
Abstract: Every day perioperative departments are responsible for ensuring surgeries go off without a hitch. The success of those orthopedic and neurosurgery procedures depends on the coordination of vendor inventory and support. As a result, hospitals spend a large chunk of time and money managing medical device vendors and their inventory.

A lack of data and visibility across stakeholders makes driving vendor accountability nearly impossible. Departments have tried to combat these problems with home-grown solutions to document vendor tray throughput. Without clear policies and procedures in place, departments are left to deal with late vendor tray delivery, lost inventory spend, and wasted time spent on vendor coordination.

To address this, Trihealth invested in a process that would hold their vendors accountable. They began by establishing and measuring a baseline set of key performance indicators (KPI) across sterile processing and the OR. The KPI's included time spent coordinating and processing vendor cases, freed up space in sterile storage, lost instrument spend, vendor on-time delivery, and vendor compliance metrics. As part of this initiative, Trihealth partnered with Casechek to own the measurement and compliance aspects.

Good Samaritan Hospital was the first care site to go-live with the new processes. In the first month, vendor on-time tray delivery improved by 9% and lost instrument spend was reduced by $2,000. SPD freed up 78 hours in coordination and processing efforts and the department reduced vendor trays in sterile storage by 57%. Most importantly, where there was once a lack of data around vendor compliance, there was clearly defined data metrics. All stakeholders received granular tray and case level data around vendor performance on a monthly basis and could easily trend compliance metrics by surgeon and reps.

As Trihealth continues to roll-out Casechek across its care sites, metrics around implant vendors will continue to empower and enable their facilities to make data driven policies and processes.
Implementation of a Surgical Transfer Unit: An Innovative Approach to Increase Timely Access to Surgical Subspecialists
Authors:
Adam S. Royer, RN, EMT, MS, BSN, FACHE, CNOR, TCRN, NREMT, AVP Surgical Services, Erlanger Health System
Jennifer Ohle, Erlanger Health System
Abstract: A review of emergency department (ED) boarder hours for surgical patients, transfer delay data and customer feedback substantiated significant delays in access to Erlanger Health System (EHS) surgical services for transfers and direct admission (TDA). These delays resulted in referral sources seeking alternate care locations both locally and regionally. Surgical TDA were found to often access EHS via the ED resulting in significant ED boarder hours and ED overcrowding. The concept for this unit was identified by our Chief of Surgery based on the University of Maryland\'s (UMMC) Critical Care Receiving Unit. A review of literature, limited to the USA, failed to reveal any specialty surgical units. The UMMC Critical Care Receiving Unit most closely resembled the vision of EHS and therefore was chosen as the EHS Model. The goals were to increase access both locally and regionally to EHS surgical subspecialists, reduce ED boarder hours by surgical patients, reduce cost by eliminating ED presentation for TDAs, reduce delays in acceptance of TDAs, reduce surgical mortality and increase referral volume. With these goals in mind, in the first 11 months of operation, our Erlanger Surgical Transfer and Receiving Unit (eSTAR) has prevented 615 unnecessary ED presentations resulting in a savings of $758,295 and 369 boarder days. As for our goal of decreasing the amount of time a surgical patient spends in the ED boarding, we accepted 711 patients, accounting for 426 boarder days in eSTAR.
Implementing Enhanced Visual Inspection into Your Sterile Processing Department
Author:
Stephen M. Kovach, BS , CFER, Director of Eduction, Healthmark Industries
Abstract: Unclean or dirty medical devices pose a potential risk not only to patients but staff. Medical devices that are visibly dirty upon inspection during the assembly process should be sent back to be re-cleaned according the medical device manufactures IFU. It is easy to look on the outside of any medical device and see if it is visually clean but what about inside a lumen or the biopsy channel of an endoscope how can your sterile processing technician professional accomplish that task. Recent articles are now suggesting basic visual verification for medical devices with lumens or channels might not be enough to ensure those medical devices are clean.

This poster will explore the development of a new technology in visual inspection now being called enhanced visual inspection (using a borescope or flexible inspection scope made specifically for use by the sterile processing professional) of medical devices. Recent incidents of infections received by patients from dirty endoscopes and arthroscopic shavers have led to changes in how sterile processing professionals visually inspect these specific medical devices and many other medical devices.

Data from a survey will be shared on how staff are complying and not complying with the change to the Instruction for Use on arthroscopic shavers.

We will explore the development of this new technology and understand the how and why this new technology was developed and now being used daily. Pictures will be shared of the internal workings of arthroscopic shavers, flexible endoscopes and other medical devices to demonstrate the value of enhanced visual inspection in ensuring medical devices are "visually clean" so they can be either High Level disinfected or sterilized.

These advanced enhanced visual inspection tools are the cutting-edge technology progressive sterile processing departments are using to deliver safe and ready to use medical devices for their patient.
Improve Case Cart Delivery in Ambulatory Surgery Center
Authors:
Genevieve Cirineo, MSN RN, ASC Nurse Manager, Sibley Memorial Hospital
Tenzin Nampheltsang, Lean Champion, Lean Champion, Sibley Memorial Hospital
Jun Edo Orlanes, Executive Lean Coach, Executive Lean Coach, Sibley Memorial Hospital
Abstract: Sibley Ambulatory Surgery Center's (SASC) Operating Room and Sterile Processing staff goal is to design an efficient and accurate process for picking surgeon's preference items and timely transportation of case carts in the OR.  It is extremely important for SASC's Sterile Processing Department to deliver timely and complete case carts to the OR for next day schedule cases.  Using a well-designed surgical case carts can help the unit keep track of inventory levels.  The focus on this project is primarily on case cart organization with easy accessibility in between OR turnover within the four (4) OR in Sibley Ambulatory Surgery Center.  Currently there are variation in case cart delivery process, combination case carts, and different design carts in SASC for four (4) operating rooms.  This is resulting in longer lead time in pulling next case items in the OR resulting in longer lead time in pulling next case items in the OR.
Improving Patient Safety by Developing Perioperative Nurses into EBP Experts
Author:
Judith Ann Moran-Peters, DNSc, RN, NE-BC, BC, Coordinator-Nursing Research/Professional Development, Nursing Administration, John T. Mather Memorial Hospital
Abstract: Purpose/Objectives: The purpose of this clinical practice/innovative project is to improve patient safety-related outcomes by developing EBP competency among registered nurses working in Surgical Services.

Content:  Evidence-Based Practice (EBP) is a problem-solving approach by which sound scientific findings are accessed, interpreted and integrated into clinical thinking and decision-making. The goal of EBP is to improve clinical practice and patient care outcomes. EBP is necessary in every clinical Nursing specialty. This is especially true within the complex, fast-paced world of Surgical Services, where patients are very vulnerable, and their safety is of paramount concern to nurses as patient advocates.

Strategy and Implementation:    During 2016-2018, a visionary Chief Nursing Officer with extensive Operating Room experience, appropriated funds that provided an innovative educational program to clinical nurses. The goal was to develop EBP competencies among nurses throughout the organization. Based on excellent clinical performance, and potential for leadership, 52 registered nurses were selected to participate in the program. Among these nurses, 11 (21%) were from Perioperative Services.

Outcomes: Many of the completed EBP Projects effected practice change that improved the overall quality of patient care outcomes. For example, a nurse assigned to ASU collaborated with the Chief of Anesthesiology to revise NPO Guidelines based on scientific evidence in the literature. As a result, ASU patient satisfaction increased and complaints decreased among preoperative patients, especially those scheduled for surgery in the afternoon.  Another EBP Project standardized the equipment and technique used to measure patients' temperatures. An outcome of the project was that when patients are transferred from one clinical area to another, such as: from PACU to inpatient units, temperatures show little variation. Thus, biomedical accuracy and patient safety was improved related to vital sign measurement. In the Pain Management Unit, nurses use aromatherapy and the "m" technique of hand massage to decrease pre-procedure anxiety and improve satisfaction among patients with chronic pain.
Improving Pediatric Postoperative Tonsillectomy Pain: A Collaborative Effort
Authors:
Pamela Kribs, MSN, RN, BC-NE, CNRN, Nurse Manager - PACU, Northwell Health @ Huntington Hospital
Joan Chilelli-Hanson, MSN, RN, CPN, CBC, Nurse Manager Pediatric ASU, Northwell Health @ Huntington Hospital
Abstract: In a four time metropolitan Magnet designated community hospital, the shared mental model of the Pediatric Collaborative Care Council is to give our patients the best care, which leads to positive outcomes. Increased post-operative pain in pediatric tonsillectomy patients can lead to the patient's refusal to eat, drink, or take oral pain medication. This can lead to an increased length of stay, increased time on intravenous therapy, and additionally may cause patient and family dissatisfaction.

Is Morphine better than Oxycodone at relieving pain in pediatric post op tonsillectomy patients?

Literature reviews show that Morphine is frequently utilized as a first line drug for pediatric post op tonsillectomy pain, however pain control may still be satisfactory using other methods of analgesia. Morphine is known to be more effective than Oxycodone. Despite this, nurses in the perioperative area may have difficulty ascertaining pain scores in the pediatric population, which creates difficulty in choosing the appropriate medication to administer.

A 6 month retrospective chart review was done looking at the pain medication given in the PACU to pediatric tonsillectomy patients performed by the same surgeon, as well as the pain scores on arrival to the pediatric unit after discharge from PACU. Immediately after the chart review, the PACU nurses began changing their practice and administered Morphine instead of Oxycodone to appropriate tonsillectomy patients, with a more keen awareness as to the patient's FLACC or Wong Baker Faces Pain Rating scores. Data after 6 months was obtained on 51 patients to see if Morphine had more optimal results than Oxycodone.

Chart reviews on admission to Pediatric ASU revealed that 60% of pain scores less than or equal to 4 were attributed to those who received Morphine in PACU. Conversely, 83% of children who received Oxycodone instead of Morphine had pain scores greater than or equal to 5.These results showed that Morphine is in fact better at relieving pain in the post op pediatric tonsillectomy population.

Through cooperation and coordination with our Pediatric Collaborative Care Council, the PACU nurses have been incorporating the findings into their practice in order to optimize performance outcomes. Feedback continues to be shared at council meetings.
Increasing Operational Efficiency through Personnel Management
Author:
Ayman Fawaz, President, orgo.ai
Abstract: Using Machine learning and the Startup orgo.ai (out of Skydeck, the UC Berkeley Startup Incubator) we have implemented staffing models for the PACU which, not only increase budgetary compliance but, also do not compromise safe patient care. Too many times in healthcare we staff to what we feel is most appropriate but, what if we could staff to what we actually need based on computer analysis based on historical volumes?
Innovation in Nursing: Sharps Safety Improvements
Authors:
Linede Kraemer, MA, RN, CNOR, NE-BC, CSSM, OR Director, NYU Langone Orthopedic Hospital
Amanda Chen, RN, CNOR, NYU Langone Orthopedic Hospital
Arlene Jerez, RN, NYU Langone Orthopedic Hospital
Gerard Lacagnino, NYU Langone Orthopedic Hospital
Abstract: In response to an increase in reported needle stick injuries related to intraoperative monitoring (IOM) needles from 8% to 27% month-to-month, NYU Langone Orthopedic Hospital nursing staff began trialing products to reduce such injuries. While attending a nursing conference during vendor exhibits the team discovered an adhesive tape product meant to cover and temporarily fixate neuromonitoring needles. An in-house trial was conducted and reduced reported needle stick injuries to 0% when trialed in a cohort of patients over a period of 4 months. In addition to improving clinical safety, staff feedback on the trial also revealed the added benefit that colored tape lettering improved electrode visualization. There has also been a notable reduction in skin injuries typically associated with surgical tape, which was previously used for to temporarily fixate IOM needles. The nursing team worked with the organizational value analysis committee to bring the product to full use across the institution.
Innovative Physician Engagement Improves Patient Safety
Author:
Anne Marie McIlmoyl, RN, AGDM, MBA, Director - Perioperative Services, St. Joseph's Health Care London
Abstract: Purpose
Medication Reconciliation is a structured interdisciplinary process to communicate accurate and complete patient medications at transitions of care enhancing patient safety, decreasing medication errors while enabling greater efficiencies in workflow through higher level of automation. Best Possible Medication History (BPMH) is the foundation to generating the medication orders.
St Joseph's had a rate of 85% in 2015/16. In Q1 2016/17 St Joseph's Hospital's goal was to bring admission med rec to 95% by end of Q4 2016/17.

Content
St. Joseph's Health Care London is committed to earning complete confidence to those we serve. Medication Reconciliation as a best practice in patient safety was not consistently adopted. Engaging physicians and the adoption of business intelligence allowed for the re-development of just-in-time meaningful reports to key stakeholders created opportunity for direct follow up with physicians and leaders. Subsequent PDSA quality improvement cycles ignited change in practice, resulting in dramatic improvement in compliance.

Content


Physicians requested weekly rates to enable timely follow up with teams.


Communication Strategies: weekly emails to attending physicians, committee discussions, leader/ staff meetings, CEO forums and internal and external communications


Trusted BPMH process allowed for quick, reliable med rec.


Established corporate policy.


Timely, accurate data reports in easily read format.


Support at all levels, including Accreditation ROP, St Joseph's strategic plan and QIP. Med Rec was embraced and supported by senior leadership, physician leaders, operational leaders, pharmacy and front line staff.


Sequenced PDSA cycles




PDSA 1 - Quarterly Med Rec reviewed at OR committee.


PDSA 2 - Sept 2016 - weekly med rec rates by physician & by service


PDSA 3 - Oct 2016 - PACU began monitoring Med Rec with immediate follow up


PDSA 4 - Dec 2016 – Detailed Weekly follow up with Physicians below 100% compliance


Outcome
Through strong physician engagement, Best Possible Medication History, just-in-time, accurate and reliable data, and the support at all levels, the goal of achieving successful Admission Medication Reconciliation was achieved and sustained.
Look Before You Leap: The Importance of Completing a OR Supply Chain Assessment and Beginning Improvements Prior to Pursuing a New OR MMIS System
Authors:
Ash Crowe, Senior Project Engineer, St. Onge Company
Kevin Youmans, VP Surgical Services, Inova Fairfax Medical Campus
Abstract: Currently there are many OR MMIS systems on the market designed improve the full OR Supply Chain, as well as many other systems designed to improve portions of the materials flow and documentation. However, it is important to remember that these systems will all be based off your hospitals current data and process infrastructure. Additionally, it is important to do a complete assessment of your current system (and its deficiencies) so that your request for proposals for a new system can include all your true needs. The goal of this poster is to present an overview of how to complete an assessment, the kinds of issues that can be discovered in the assessment, and the changes that can begin prior to a new OR MMIS system. The poster will include a review of the tools used to define the current state operations. Will also highlight obstacles encountered in the process. Data gaps, communication challenges between and among the various departments, as well as the time commitment required to complete the work will be addressed. The poster will also review findings of the assessment including:

• An overview of the action plans and improvements undertaken
• Inconsistent use of available technology to manage processes
• Reliance on "the way we've always done it", rather than continuous improvement
• Findings from the assessment that informed the new inventory system RFP
Manage Block Scheduling Without Getting Fired or Losing a Surgeon
Author:
Ben Carpenetti, MBA, FACHE, CHIMSS, LSSMBB, CEO, Carpenetti & Associates
Abstract: We used an inexpensive software tool when we added a service line and had to figure out how to fit new surgeons into the existing block schedule.
The tool helped forecast the training and/or hiring needs of the nursing staff as well, so we were prepared when the new surgeons arrived. We didn't have to "rob Peter to pay Paul" as it had happened in the past.
Meeting Regulatory Requirements, Improving Safety, and Decreasing Cost through a Standardized Pump Cleaning and Distribution Process
Authors:
Stephanie M. Rivera, MSN, RN, CNOR, Nursing Operations Manager, Orlando Health, Dr. P. Phillips Hospital
Constance Tasker, RN, MSN, CNOR, Learning Specialist, Operating Room, Orlando Health, Dr. P. Phillips Hospital
Abstract: Background: CDC recommends hospitals disinfect patient care devices in a dedicated department to control quality cleaning according to manufacturers' instructions (CDC, 2008). This process should be done after each patient use to prevent cross contamination. Our Sterile Processing Department (SPD) was tasked with the role of pump disinfection, to provide standardization and streamlining of this process on all pumps and equipment.

Purpose: Develop and implement a standardized process of a pump being assigned to each patient upon admittance to a hospital unit, and having this designated pump follow the patient throughout their hospitalization, providing a more efficient process and decreasing the number of pumps being cleaned at the unit level daily.

Strategies: Upon learning that pump cleaning would be performed by SPD, team members were cross trained to perform both pump cleaning and sterile processing competencies. A process to assign pumps to patients for their entire hospitalization was developed and disseminated to key stakeholders through e-mail, flyers with pertinent information, bed board huddles, and 1:1 conversations. The SPD department collaborated with the in-taking units to establish par levels and tracked compliance by monitoring the number of patients admitted to inpatient units without a pump. Interdisciplinary collaboration was established with Biomedical Engineering to track the broken or out of service pumps each week.

Outcomes: This process enhances ease of use, improves patient safety, and strengthens our hospital economics. The average out of service pump parts due to damage from incorrect cleaning decreased from >50 to 50% reduction in phone calls. This process improvement project has been shown to ensure efficiency and help reduce costs.

Reference:
Centers for Disease Control and Prevention (2008). Guideline for disinfection and sterilization in healthcare facilities. Retrieved from: https://www.cdc.gov/infectioncontrol/guidelines/disinfection/index.html
Multidisciplinary Lean Six Sigma Project - Decreasing OR Downtime
Authors:
Teodora Nicolescu, MD, Medical Director, OUMI/OUHSC
Casey Woods, MHA, COO, OUMI
Deborah Foster, MHA, AVP, OUMI
Angela Harris, MHA, OR Nursing Director, OUMI
Abstract: This is multidisciplinary black belt project that has addressed OR downtime that results from inaccurate scheduling , added procedures on the day of surgery, time spent in terminal cleaning after cases requiring it or time that was lost due to late starts. It is multidisciplinary and done in a large academic institution. The end results of the project were better OR metrics and a large financial return on investment.
OR/SPD Teamwork
Author:
Valerie Kovacic-Mauer, MBA, BSN, RN, CNOR, Director of Surgical Services, Cleveland Clinic-Marymount Hospital
Abstract: Purpose/Objective: We conduct daily huddles with OR and SPD to foster collaboration, teamwork and communication. We also have a Nursing Director attend the CS/SPD monthly Affinity meeting to help foster this relationship with OR/SPD.

Content: Nurse Manager, Assistant Nurse Managers, Lead CS/SPD Tech and Anesthesiologist all meet to discuss these topics daily.

Strategies for Implementation: Monthly meetings occur with the CS/SPD Managers and the Director attends. Policies have been standardized throughout the Cleveland Clinic Enterprise for all locations for the OR as well as SPD. These policies are approved with the Directors from each site location. All of these strategies have helped improve the collaboration, teamwork and communication between these two departments. We've also implemented that new staff observe in OR and SPD to learn how dependent these two departments are with one another.

Outcomes: Our goal is to continue to have consistent practices throughout the Cleveland Clinic Enterprise and to foster collaboration, teamwork and communication to continue to put "Patients First."
Patient Safety First
Authors:
Linda Ortiz, MSN RN, Director of Surgical Services, The Medical Center of Aurora
Michelle Stierstorfer, MSN RN, Director Surgical Services, The Medical Center of Aurora
Nancy Wolfmeier, MSN RN, AVP Surgical Services, The Medical Center of Aurora
Abstract: A Never Event is a serious medical error that results in an adverse event such as a wrong site surgery, wrong site block, or retained foreign body (AHRQ, 2017). Over the course of fourteen month (2014-2015), our hospital experienced six "Never Events" in the operating suites resulting in direct patient harm.   The Patient Safety First Initiative was implemented to engage key stakeholders, communicate and build awareness around "Never Events", as well as present new strategic practices to eliminate "Never Events" in the operative and procedural area in our institution.

Surgical and Procedural leaderships (supervisors and above) are required to attend Team STEPPS (Team Strategies and Tools to Enhance Performance and Patient Safety) training. Team STEPPS is an "evidence-based framework to optimize team performance across the healthcare delivery system" (AHRQ, 2017). This training empowered the leadership team to instruct and coach on communication strategies and other patient safety protocols to enhance patient safety in the surgical areas.   Annual Patient Safety First Meetings were established to gain transparency around six "Never Events" that occurred in our operating suites and used this platform to develop a plan of action for preventing these events from occurring again.   The Patient Safety First Meetings are mandatory for all Peri-operative staff (Operative, Pre-Surgical, Post Anesthesia, Endoscopy, CV Service, Labor & Delivery, Central Sterile staff as well as Hospital Leadership).  Working with the evidence from the Risk Management Investigations (RMI) and the TeamSTEPPS framework, we created safety protocols to include: CUSS Communication Strategies (Concern, Uncomfortable, Safety, Stop), improved our Surgical/Procedural Time-Out Processes, as well as improved surgical training and education programs. Yearly Patient Safety First Meetings haves evolved to highlight key drivers of patient safety as well as continue the conversation around safe-quality patient care to eliminate the potential for Never Events.

In 2014, before the Patient Safety Initiative, we had 6 never events.  The first Patient Safety Meeting was held on 8/28/2014. We have held additional Patient Safety First Meetings annually each year.  In 2015, we had 3 Never Events. In 2016 was had zero never events.  In 2017 we had zero never events. We have gone over 1000 days without a Never Event in our main OR.

Implementing the Patient Safety Initiative and the Patient Safety First Meetings has increased awareness, created best practice protocols around Brief/Time-Out/Debrief, and improved communication with SBAR and CUSS resulting in a 927 days span of no "Never Events" in our Main OR Suites, and a continuous venue to improve safety and quality of care for our patients.

References:

AHRQ (2017). CUS Tool- Improving Communication and Teamwork in the Surgical Environmental Model. Retrieved from https://www.ahrq.gov/professionals/quality-patient-safety/hais/tools/ambulatory-surgery/sections/implementation/training-tools/cus-tool.html.

Thiels CA, Lal T, Nienow J (2015). Surgical never events and contributing human factors. Retrieved from https://psnet.ahrq.gov/resources/resource/29080/surgical-never-events-and-contributing-human-factors
Pediatric PACU Meds to Beds
Authors:
LeighAnn Chadwell, MSN, RN, NE-BC, Manager, Holding Room/PACU/Radiology Recovery, Monroe Carell Jr. Children's Hospital at Vanderbilt
Elizabeth Humphreys, PharmD, MMHC, Director, Monroe Carell Jr. Children's Hospital Pharmacy, Monroe Carell Jr. Children's Hospital at Vanderbilt
Priscilla Mooney, PharmD, Monroe Carell Jr. Children's Hospital Pharmacy Manager, Monroe Carell Jr. Children's Hospital at Vanderbilt
Lacie Favret, BSN, RN, CPN, Clinical Staff Leader, Monroe Carell Jr. Children's Hospital at Vanderbilt
Abstract: Purpose/Objectives/Content:   

This project aimed to improve the care of pediatric patients who have unique prescription needs that may not be met in community pharmacies.  Often the appropriate dosage forms (liquids, compounds, etc.) are not available, dosing tools such as oral syringes are not provided, and there can be variance in available concentrations.  Each of these issues can result in dosing errors and compliance concerns for pediatric patients.  In addition to these needs, the established workflow between the PACU and pharmacy was resulting in significant delays for families and a negative impact on their overall satisfaction.

In September of 2015, the PACU Prescription Workflow Team, embarked on a journey to improve the process for patients and families being discharged from the Children's Hospital PACU with prescriptions for post-operative medications. The goal of the team was to improve prescription turnaround time, capture rate, and patient/family satisfaction.

Strategies for Implementation:

                In 2015 a significant change was made in the workflow for post-op prescriptions which involved the nurse or provider offering prescription services prior to the patient going to the OR, the retail pharmacy filling the prescription, and the family picking it up once it was ready.

Following the PDSA cycle for improvement, this process evolved in August 2017 to include the placement of a pharmacy technician in the PACU, delivery of the prescriptions to the bedside in the PACU, and prescription counseling from the pharmacist utilizing mobile technology.

Outcomes:

                Following implementation of the new process significant improvement was noted.   Prescription turnaround time decreased from 60 minutes in FY16 to 37 minutes in FY18.  Prescription capture rates improved from 30% in FY16 to 61% in FY18.  Ambulatory Surgery patient satisfaction scores improved from 87.6% in FY17 to 90.1% in FY18.
Perceptions, Perspectives, and Knowledge of Operative Nurse Competency in Organ Recovery/Procurement
Authors:
Ebony MItchell, MSN, BSH, RN, Charge RN, Memorial Hermann Hospital-TMC
Deshon Burton-Essia, BSN, RN, RN IV, Memorial Hermann Hospital-TMC
Darlene Murdock, BSN, BA, RN, CNOR, RN IV, Memorial Hermann Hospital-TMC
Abstract: Creation and cultivation of a sustained and nurturing, flourishing culture of retention, requires that managerial focus is more than ensuring training and competitive pay is evident.

Joy must illuminate in the areas of people, workload, achievement/accomplishment, and recognition.  Preparation of protégé requires a combined effort between preceptors, mentors, and management to identify, develop, and continuously evaluate strategies employed to determine if those strategies that have previously been successful in the past, truly set the stage for increasing retention rates and futuristically enhancing organizational performance financially for years to come.

Engagement champions employed within Memorial Hermann, a newly designated Magnet facility, were charged with the task of tackling the issue of improving employee involvement and retention within perioperative services among the weekend day and night trauma teams.  Brainstorming and divulgence of ideas/suggestions occurred during formal meetings and champions were provided the opportunity to present, solicit more ideas, and follow through with ideas with approval from management.  Working closely with engagement champions from both teams, workable strategies were developed that enabled us to continue to remain one of the top and least likely units in the entire organization to have decreased turnover and improved retention rates.

Implementation of an "I am engaged" pledge, ceremony, and celebratory dinner, huddle, the customary graduation, bridal showers, retirement celebrations, and holiday parties, in addition to "just because" celebrations for a job well done were discussed.  Presentation occurred in the form of power-point to all staff to solicit buy-in as well as suggestions and questions.  The information was then discussed with management and once approval was obtained each item that was approved was presented to staff in a second power-point presentation.

The outcome of this project is that the day and night weekend trauma teams have increased staff retention and continue to be less turnover then has been experienced in prior years within Memorial Hermann Texas Medical Center.  Efforts to ensure that the perioperative nursing shortage is kept at a minimum nationally and internationally require leaders, preceptors, and mentors to engage in meaningful conversations with staff that enable divulgence of pertinent and realistic strategies to improve joy in the workplace, retention of staff while decreasing unwarranted feelings, increased turnover, and a continual nursing shortage of perioperative nurses.
Perioperative On Time Starts
Authors:
Kimberly Moyers, BSN, RN, CSSM, CNOR, Nursing Manager, Surgery, Northwestern Medicine Lake Forest Hospital
Gerald Biala, MSN, RN, CNOR, CSSM, SVP, Sullivan HC
Abstract: Problem Statement: First case on time starts in December were 37% with little tracking of reasons for delay.  There was minimal follow up around issues negatively impacting our first case on time starts and interdisciplinary team relationships, as well as, the entire remaining day's cases.

On time start percentages increased through close monitoring and measurement, collaborative huddles, process improvements, and actionable follow through each day and each month to maintain positive outcomes.  This improvement required representation at a daily huddle that included, charge nurses in surgical services, anesthesia, managers, Pre-Admission Center (PAC), Sterile Processing Department (SPD), and Scheduling, identifying and tracking of each case's start time within the identified timeframe.

Our process included creating a daily huddle sheet to review on time starts with an interdisciplinary team of representatives for perioperative services, discussing patient arrival times, admission times, evaluating cases in need of pre-operative blocks, ensuring staff and anesthesia commitments to having room ready, and maintaining a daily log of delayed reasons.

Interventions and changes to sustain goal included obtaining appropriate registrar support at the appropriate hours, noting isolation cases and language barriers, implementing a plan to get consents and H&P's on chart by 1pm day prior to surgery, and implementing a T-minus chart for physician arrival and block preparation.

First case on time starts, primarily impact relationships, reliability and efficiency. On time starts positively impact relationships through patient experience by keeping the patients' intended scheduled start times, ensuring the surgeons reliability and efficiency through a reduction in delays, thus helping impact the relationships of our interdisciplinary teams. When all team members are held accountable and work together, the team grows stronger and patient satisfaction increases. Our goal was to achieve 70% first case on time starts for 6 months. We were actually able to meet goal for the entire year finishing at 71%.
Perioperative Pressure Injury Prevention (PPIP) Toolkit
Author:
Susan Scott, MSN, BSN, RN, WOC Nurse, PS/QI Educator, UTHSC GME
Abstract: Risk of pressure ulcer/injury (PU/I) during the perioperative period is a patient safety issue that has increased over the past 5 years. Significant gaps in knowledge, skills, and practice across all phases of care from the emergency department to the operating room and beyond, must be addressed to reduce patient harm that can lead to complications, disfigurement, disability, and death.

Recently published AORN Guidelines and Toolkits contain recommended practices such as surgery specific risk assessment tools and evidence-based interventions. This presentation will describe how to develop a clinical improvement strategy for reducing Hospital Acquired Pressure Ulcer/Injury (HAPU/I) in surgical patients by implementing a comprehensive program. Learn how to use tools such as the Scott Trigger Gap Analysis template, SWOT analysis, Scott Triggers tool, and an OR Skin Bundle to create standard work where evidence-based practices, appropriate equipment and technology are woven into the daily routine to create a sustainable program to prevent Perioperative Pressure Ulcer/Injury (PPU/I).

A study of 21,377 surgical patients screened with the Scott Triggers Tool found that more than 7,000 patients had two or more triggers and were considered to be at high risk for pressure injury (Martinez et al., 2014). For these patients, an OR skin bundle was implemented. Results showed the rate of HAPI decreased from 3.37% to 0.89% (p=0.004), with the reduction sustained over a 14-month period. The facility also lowered costs by nearly $1.4 million over a one-year period (Martinez et al., 2014).
Perioperative Surgical Home and Improving Outcomes
Author:
Julie Sheedy, DNP, RN, Nurse Administrator, TriHealth
Abstract: Purpose:
The Perioperative Surgical Home (PSH) is a patient-centered and physician-led system of coordinated care that guides the patient throughout the entire surgical experience, from the need for surgery to 90 days post-discharge. Decreasing care variations in the way care is delivered to patients undergoing surgical procedures will be critical in the effort to improve efficiencies that demonstrate better clinical outcomes through care coordination and increased standardization of follow-up care provided in the home.

Content:
Elective Colo-Rectal population from a Tertiary Hospital for a six month period that utilized standardized clinical pathways and telephonic follow-up calls post-discharge.

Strategies for Implementation:
•Identified a Discharge Care Guide Nurse to follow patients
90 days post-discharge
•Integration of the EMR system to document care across the
continuum
• Interventions created throughout critical points during the
episode of care
• Initiated an evidence-based telephone protocol for 90 days
post-discharge
• Communication plan to the Primary Care Physician on
transitional needs at completion of the program

Outcomes:
•Reduction in readmissions 7%
• Increase patients experience
•Decrease in LOS three days
•Decrease in Surgical Site infections 64%
Perioperative/Procedural Skin: It's Not Always Warm, Dry, and Intact
Author:
Heather Kooiker, MSN, RN, CNL, CNOR, CRNFA, Clinical Nurse Leader Surgical Services, Metro Health Hospital - University of Michigan Health
Abstract: The centers for Medicaid and Medicare Services consider hospital-acquired skin injuries a Never-Event, and yet hospital systems across the country struggle with increasing numbers of hospital-related skin injuries. Skin injury risk identification, prevention, and intervention have primarily been a focus on inpatient hospital units, although the literature suggests that the incidence of pressure injury occurring following surgery or a procedure may contribute to over half of all hospital-related skin injuries.

Many pressure injured patients are not identified as high risk upon admission to the surgical or procedural areas, and thus, skin injury prevention has typically not been a focus of care in these departments. The global aim of this project is to create a culture of "Never" for skin injuries; to bridge the communication gap between procedural and inpatient nursing departments; to see a decrease in skin injuries, while also realizing an increase in department staff participation and increased patient satisfaction and trust.

The scope of this project includes all the phases of care within surgical services and procedural areas. All identified areas will launch an evidence-based skin injury prevention bundle on May 27, 2018 with a goal of 95% participation of all roles by July 1, 2018. Participation will be measured using an audit process and observation. Evidence of a decrease in skin injuries will be collected using a focus case study report, and interventions resulting in improvement will be sustained through audits and compliance monitoring.  The Knowledge-to-Action-Cycle is the frame work method that will be used to initiate and complete this project.

In conclusion, decreasing the risks of skin injury on a perioperative/procedural patient depends on risk identification. By utilizing a validated risk assessment tool and implementing an evidence-based skin injury prevention bundle, skin injuries will decrease in occurrence in the surgical/procedural areas.
Preop Fasting Guidelines: Transforming from Tradition to Evidence Based Practice
Author:
Christine Howe, BSNc, RN, Clinical Nurse Manager SDSU, Monadnock Community Hospital
Abstract: The effects of needlessly long fasting times can cause an increased risk of pulmonary aspiration, dehydration, and greatly increase post operative nausea and vomiting. The long outdated guidelines of NPO after midnight are alive and well and continue to be instituted by many organizations. Transitioning current evidence based care to practice is often fraught with barriers. This poster will portray challenges and successes the author had in implementing a comprehensive educational program in her facility. This effort worked to help change the deeply entrenched sacred cow of NPO after midnight.
PREOP RNs - Navigating the Ship for On-Time Start of First Cases
Author:
Julie Dameus, MBA, BSN, RN , Clinical Nurse Manager , Fox Chase Cancer Center
Abstract: Purpose:

The purpose of this initiative was to explore nursing implications related to delay in on time starts of first surgical cases and to identify the challenges that incur such delays. Effects on nursing care related to interdisciplinary relationships as well as delay of patient care was also studied.

Content:
When first surgical cases are late, procedures fall behind causing dissatisfied patients and families. Identification of barriers causing the delays; exploring the needs of nursing; and describing how nurses influence a positive effect on the on time starts enabled nurses to improve first case on time starts, OR efficiency and patient satisfaction.

Strategies and Implementation:
PREOP nurses redistributed tasks to be completed and clarified the responsibilities of nursing aides and nurses using a modified orientation for reachable goals. The nurses restructured the flow into the area reducing repetitious questions, work and established a 30 minute limit for a completed nursing assessment without disruptions by anesthesia and surgical staff. A new process between PAT and PREOP was designed to alleviate delayed starts attributed to delay in blood available in the OR. An electronic medical record system with one congruent documentation placement was implemented providing accessibility by all perioperative staff for information resulting in faster information retrieval along with comprehensive and efficient nursing documentation in the PREOP area.

Evaluations/Outcomes:
Dramatic increase of first case starts from 48% to 73% within three months was demonstrated. Nurses identified barriers to their job performance related to double documentation, education, autonomy, poor working relationships with interdisciplinary staff and satisfaction. Nursing partnerships within perioperative areas and interdisciplinary team led to an increase of on time starts. The next phase of the initiative will focus on specific workflow changes related to anesthesia and the surgical team for results in the 85-90% of on time starts.
Providing Standardized Disposable Blood Pressure Cuffs for In-Patient Surgical Patients Provides Unit Efficiency & Cost Savings
Authors:
Joy Flores, BSN, RN, CCRN, Assistant Nurse Manager, Orlando Health, Dr. P. Phillips Hospital
Constance Tasker, MSN, RN, CNOR, Learning Specialist, Orlando Health
Abstract: Background: Currently, there are 2 different blood pressure (BP) monitoring systems used within the peri-operative setting and the in-patient hospital surgical unit in our community hospital. The different monitors use different cuff types that are not interchangeable. This requires patients who will be admitted postoperatively to need 2 blood pressure cuffs throughout their hospitalization, incurring wasted time changing BP cuffs and increased charges related to the need for the second cuff.

Purpose: To improve unit efficiency in the peri-operative department, and reduce waste of costly disposable medical equipment.

Strategies: The hospitals' Materials Management Department provided y-adaptors at no cost to the unit, and attached them to applicable wall mounted monitors throughout peri-operative services. As part of the previous days standard workflow, the surgical schedule is reviewed and potential in-patient admissions identified and flagged. On the day of surgery, these patients are provided the appropriate double hosed BP cuff when gathering supplies. Inpatients transferring to the pre-operative area in preparation for surgery bring with them the double-hosed cuff they have been supplied with as long as it is visibly clean. Education was conducted before the process was initiated with all team members. An electronic health record update was completed allowing pre-operative nurses to document which cuff was applied to track compliance.

Outcomes: With an average single hose blood pressure cuff costing $2.12 each, and an average utilization of >400 inpatient cuffs per month, the process is estimated to save >$848 per month according to metrics pulled from the electronic medical charting system. This process gives an approximated cost savings amount because there is some variation in cuff cleanliness and human error waste in applying the BP cuff. This process of identifying duplication of supplies throughout a hospitalization can be spread to other peri-operative units throughout our hospital system.

References:
Lausten, G. (2012). Reduce-Recycle-Reuse: guidelines for promoting perioperative waste management. AORN Journal (85:4). doi:10.1016/S0001-2092(07)60146-X
Push not Pull: Using Data Science to Improve OR Operations at OhioHealth
Authors:
Alyssa Trocchio, MHA, Manager of Operations for Surgical Services, Ohio Health
Ashley Walsh, MHA, Director of Client Services, LeanTaas
Abstract: Most hospitals operating room administrators have a dashboard for operational data, including room utilization, number of cases, first case on-time starts, turnover metrics, etc.; admins also use their EHR to generate reports. Most admins use these tools in a pull manner; they start with something in mind and then look for the data. This causes problems when people aren't clear on what to look for or just get lost in the reams of data available to them. Equipped with trend and anomaly detection powered by predictive analytics, machine learning and mobile technologies, OhioHealth has turned pull into push, and reclaimed under-utilized OR time. Instead of being overwhelmed by the enormity of data available, an email or SMS push notification now delivers the most relevant data at the right time. Rather than sit unused, surplus OR block time can be offered to other surgeons to improve utilization.
Putting Together the Puzzle Pieces in Endoscope Reprocessing: What Have We Been Missing?
Author:
Mary Ann Drosnock, MS, CIC, CFER, RM (NRCM), FAPIC, Manager, Clinical Education, Healthmark Industries
Abstract: It is imperative that there is complete removal of all soil and organic material from a flexible endoscope each time that it is processed. Complete cleaning must precede disinfection or sterilization because any soil that remains on the endoscope may interfere with the ability of the disinfection or sterilization process to effectively kill or inactivate microorganisms and may allow for biofilm development. This poster discusses steps that are often overlooked or not-widely-known that may contribute to endoscopy-associated infections. Mention of these overlooked steps are based on direct observation of reprocessing within Healthcare facilities, through auditing facilities and from conversations with technicians and nurse managers regarding their internal processes. Recommendations in this poster regarding these steps are found in current national standards, regulatory guidance, and professional society recommendations.

By reprocessing flexible endoscopes with strict adherence to national standards, professional society recommendations, endoscope IFUs, regulatory guidance and by adding in best practices, current study data findings, and quality assurance parameters, facilities can be sure to have the highest quality procedures for processing.
Racing for Fire Prevention
Authors:
Stacey Cosco, DNP, RN, Associate Chief Nursing Officer Surgical and Interventional Services, Lahey Hospital and Medical Center
Patricia O'Neill, BSN, RN, CNOR, Nurse Manager Operating Room, Lahey Hospital and Medical Center
Abstract: Purpose: A multidisciplinary approach is essential for Fire Safety Training in the Operating Room. Using high fidelity simulation enhances the experience for all team members.

Content: An annual training program has been developed and implemented for surgeons, residents, anesthesiologists, certified registered nurse anesthetists, nurses, surgical technologists, and ancillary staff. The program is service specific and highlights barriers that may be encountered should a fire occur intra-operatively.

Strategies for Implementation: In order to successfully implement a robust high fidelity training program it was recognized that champions from multiple disciplines were imperative. Relying on the expertise of clinicians, scenarios were developed to highlight the fire risk for our patient population. Once the scenarios were created for 12 service lines, including robotics, our specialty teams were assigned a designated time for simulation training. In this simulation training, staff and clinicians were asked to play the part they represent in their typical job role. Rehearsals of the simulation took place and the scenarios were kept confidential.

Outcomes: High fidelity simulation training has allowed for the surgical team to consider barriers they may not have anticipated encountering in the event of a fire. It demonstrated the time it takes to ensure the patient is safe, as well as the impact to others in the department. Each year the scenarios are revised and reviewed. Participants from other departments who interface with the OR have become more involved so they can better understand their role in the event of a fire, or help prevent a fire.
RN Self-Auditing of Nursing Documentation
Authors:
Carolyn Anderson, MSN, RN, CPAN, Nurse Manager, Perianesthesia Services, Baystate Medical Center
Lorraine Nutting, RN, Perianesthesia RN, Baystate Medical Center
Abstract: RN Self-Auditing of Nursing Documentation: The Perianesthesia Unit's RN self-auditing program is based on Dr. Sandra Walker's published work on improving staff nurses' record keeping through auditing their own medical records for completion. Previously, auditing for completion of medical records for the Perianesthesia Services Department (Daly Preop/PACU) was performed by the nurse educator or by an individual member of the unit's Process Improvement (PI) Committee. Our staff nurse PI committee (comprised of bedside staff RNs) proposed a program in which each individual staff nurse self-audits his or her own medical record documentation for completion. The PI committee collaborated with unit leadership and Healthcare Quality to ensure that the content and quality of the audits performed are meaningful. The PI committee developed audit processes for two separate audits, educated unit nurses through staff meetings and one-on-one coaching, and partnered with the nurse manager to create a unit-shared S-drive which stores the unit's audits in an Excel Workbook which can be accessed from desktop computers throughout the department. Once a nurse enters his or her individual monthly data on a personalized Excel tab, nurses and leadership can track individual and the unit's comprehensive monthly progress of individual and shared performance goals. In addition to increased awareness of practice, nurses earn a point toward their Clinical Nurse Recognition Program requirements. The Perianesthesia unit has demonstrated an increased rate of completion of medical records since the introduction of the PI self-auditing project and nurses report that they enjoy the process of auditing their own documentation.
Staffing: Who, What, When, Where?
Authors:
Meghan Glanc, BSN, RN, CNOR, Nurse Manager Cardiac, Thoracic and Pediatric Congenital Surgery, Cleveland Clinic
Iliana Santiago, BSN, Assistant Nurse Manager, Cleveland Clinic
Abstract: It has been well researched that nurse staffing levels have a direct impact on quality of care and prevention of adverse events. The operating room is no exception to the rule. Operating room Nurse Managers are tasked with staffing to appropriate levels to meet both case volume demand and staffing ratios determined by financial and budgetary constraints. When volume exceeds budget, nurses are mandated to remain in the operating room until the cases are complete. This leads to fatigue, dissatisfaction, disengagement, turnover and ultimately, adverse events. Staffing appropriately to a fluctuating volume to ensure adequate coverage for patients while remaining within budget constraints and ensuring ongoing engagement of staff is a group effort. Utilizing unit based councils and shared governance along with historical data of operating room run times ensures you have the correct staff available without the need to mandate. Overtime, turnover and adverse events are significant unplanned costs to an organization which can be directly linked to inappropriate staffing levels. Engaging staff in the process helps the manager to promote transparency in balancing the demands of the department with their need for work-life balance. Participants of the council are able to effectively communicate concerns and challenges between their peers and management. Displaying data to the group on where the staffing is needed helps them to feel that they are part of the process. Continually tracking data points on decreased overtime and increased productivity enhances the caregiver experience and ultimately reflects on engagement surveys.
Standardization of Practice: Improving Interdisciplinary Workflow by Standardizing Back Table and Care Set-Up
Authors:
Linede Kraemer, MA, RN, CNOR, NE-BC, OR Director, NYU Langone Orthopedic Hospital
Jennifer Wagner, BSN, RN, CNOR, NYU Langone Orthopedic Hospital
Pierluigi Belcastro, CST, NYU Langone Orthopedic Hospital
Abstract: Inconsistent utilization of a standardized practice in back table set-up impacts the workflow of both the operating room and central processing. The redundancy of effort in moving items around on the back table negatively affects both safety and efficiency. The inconsistency in practice impacts relief handoff reliability and therefore potentially the delivery of quality patient care. In an effort to reduce instrument misplacement as well as improve efficiency in accessing and counting instrument trays, the NYU Langone Hospital team worked to standardize the back table set-up for primary total hip and total knee procedures. The project also coincided with an organizational initiative to standardize a significant percentage of implants for these procedures to one vendor. Interventions included creation of a photo guide of surgical instrument set-up to facilitate counting, case workflow and body mechanics and transition from a traditional back table to a double-level table. Metrics include reduced turnover time, decreased percentage of incomplete trays sent to central processing, staff satisfaction and improved transition during staff relief.
Stop Before You Block
Authors:
Xingfei Chen, Nurse Clinician, Singhealth/Singapore General Hospital
Seok Tiang Koh, RN, Senior Nurse Manager, Singhealth/Singapore General Hospital
Abstract: Objective:

To promote patient safety during regional block anesthesia performance.

Content:

Singapore General Hospital Major Operating Theatre (SGH/MOT) is a multidisciplinary operating theatre in Singapore. There is potential risk for wrong block given to patient whenever regional blocks are given to patient. Even the most experienced anesthetist may have a wrong side block. Literature shows that common factors involved in wrong-sided blocks include time pressure, distraction, fatigue, cognitive overload new personnel, bilateral pathology, and lack of a visible surgical site mark and a time delay between WHO sign-in (or equivalent) and performance of the nerve block. Other factors include turning the patient during which left and right sides can become confused.

Strategies:



STOP BEFORE YOU BLOCK: RA time-out is performed immediately prior to needle insertion by the proceduralist. Anesthesiologists should take the lead and responsibility for positioning the patient for the anesthetic procedure. The Stop Before You Block moment can be instigated by any member of the anesthetic team (anesthetist, anesthetic nurse, operating department practitioner or anesthetic physician's assistant). Success of the campaign will rely upon all team members being aware of, and trained in the process.


Pre-procedure check: After correlating correct identity, correct procedure and correct surgical site marking, the anesthetist marks the block site with a letter "B" before the (RA) procedure, at a site where it is visible after draping. The anesthetist positions the patient for the block, preps and drapes with the anesthetic site marking 'B' still visible.


Outcome:


Anesthesia is developing a practice of site marking specifically for regional anesthetic injection instead of relying only on the surgical site marking which may not be visible due to patient positioning.


Minimize the risk of wrong site and side block given to patient. Promote patient safety.


Random audit is performed to check non-compliance.


Documentation is done by both nursing and medical team.


Surgical Service OR Table Breakdown
Authors:
Lori DeWitt, MSN, RN, NEA-BC, CAPA, CPAN, Driector of Surgical Services, Cleveland Clinic Hillcrest Hosptial
Valerie Kovacic-Mauer, MBA, BSN, RN. CNOR, Director of Surgical Services, Cleveland Clinic-Marymount Hospital
Abstract: Purpose/Objective:  To standardize the table breakdown process throughout the Cleveland Clinic Enterprise to decrease bio-burden, decrease the risk of infection and decrease OR delays.

Content: Don appropriate PPE, remove gross debris by wiping down surgical instruments with a sterile sponge moistened with sterile water. All sharps need to be removed and disposed of in the sharps bin. Remove all paper and indicators for all instrument trays, identify and label any malfunctioning instruments and place in appropriate container. Open all instruments and flush lumens with sterile water. Disassemble all instruments per instructions for use (IFU). Initiate pre-cleansing with approved enzymatic cleaner and follow the manufacturer instruction for use (MIFU). Transport instrument trays in appropriate transport cart/container

Strategies for Implementation: The Perioperative Educators performed education and hands on competencies with all caregivers on the importance of appropriate OR table breakdown.

Outcomes: Our goal is to have safe and consistent practices throughout the Cleveland Clinic Enterprise. This goal will be achieved because of this annual competency and the heightened awareness of appropriate table breakdown.
The 411 of the Patient Experience Survey-Tips to Help you Exceed the Expectation
Author:
Beki Kazanofski, MSN, RN, CNOR, NE-BC, Director, Vanderbilt Medical Center
Abstract: Anyone that has been to a hotel, restaurant or bought an item online has likely received a survey asking them to rate and share their overall consumer experience. Hospitals are no different, and now nurses are being expected to not just pass meds, but to commit to delivering an overall "very good" experience which is rated and reported to the organization and bench marked against other units and hospitals across the country. With all the other demands on their time, how can they also meet this demand? How do you get them to see the value and importance of this quality metric? How do you use key words at key times to show care to the patients that they can then relate to the survey questions? This presentation will show how the Endoscopy Lab at Vanderbilt Medical Center did a deep dive in their Press Ganey Survey data to educate and engage their team and raise their survey scores 26% in less than three month's time, plus create a positive and accountable team atmosphere where exceeding the patient expectation is the new standard of care.
The Art and Science of Staffing and Productivity Management
Author:
Cheryl Barratt, MHA, BS, RN, Senior Managing Consultant, Berkeley Research Group
Abstract: As labor costs continue to be over 50% of net revenue in US hospitals, efforts to improve labor productivity are on the radar screen of Healthcare Executives. In fact, at the 2015 American College of Healthcare Executives conference, Steven Berger of Healthcare Insights recommended that the most important metric to use in annual budgeting is the Labor Ratio as each incremental improvement in the labor ratio goes straight to the bottom line. In this poster presentation, attendees will learn how to calculate the labor ratio, the labor ratio best practice and how productivity benchmarking and productivity target setting can assist in reducing labor expense. The author will demonstrate the integration of a position control document in the staff scheduling process based on historical volume data to achieve the departmental productivity target and use of daily tools and strategies that can be employed to reduce overall labor expense.
The Burning Question: How Can We Safely Manage the Use of High Alcohol Preps?
Author:
Ann Marie Morris, MSN, RN, CNOR, Nurse Manager, Perioperative, Quality and Safety, Hospital of the University of Pennsylvania
Abstract: Increased risk of surgical fire is inherent to the use of high alcohol based skin prep products and annual re-education is required to ensure both  patient safety and the maintenance of regulatory requirements. The creation of a list of certified users was an interim solution to capture both initial and annual re-education, however, not easily sustainable as a long term solution. Partnering with colleagues in nursing professional development and information technology, we created both an electronic learning module for annual re-education as well as an interface between the learning module database and our perioperative website, making it easily accessible for our nursing team to verify training prior to the use of these products for skin preparation. The initial scope of the project was limited to the operating room, however, it has since been expanded to include all procedure areas providing a standard method of validating competency and annual re-education.
The Role of Robotic Technology in Total Knee Arthroplasty
Authors:
Kevin Barga, MS, RN, CCRP, Sr. Project Manager, Stryker
Emily Hampp, PhD, Sr. Staff Engineer, Stryker
Karen Ayoub, Stryker
Laura Scholl, MS, Sr. Staff Engineer, Stryker
Abstract: Introduction: Robotic technology for joint replacement is gaining popularity in the OR including total knee arthroplasty (TKA). The purpose of this abstract is to review the potential benefits of robotic assisted TKA including: accuracy to plan, learning curve, surgeon ergonomics and patient outcomes.

Methods: A literature search was performed to understand how robotic-arm assisted TKA (RATKA) has influenced: (1) accuracy to plan, (2) learning curve, (3) surgeon ergonomics, and (4) patient outcomes. The literature search included journal publications as well as conference abstracts.

Results: The RATKA system allowed for more accurate and precise bone cuts and component placement to a preoperative plan in a cadaveric setting. It also demonstrated increased soft tissue protection in the clinical setting. A learning curve of 10-15 cases was noticed to achieve comparable OR time to manual TKA. Surgeon ergonomic risk was reduced when using the robotic system. For the patient, RATKA provided reduced pain and improved satisfaction at 6 months post-operatively.

Conclusions: Encouraging results have been found with RATKA when considering intraoperative factors as well as early patient outcomes. Future research will need to include patient functional outcomes and long-term patient follow-up.
TriHealth Perioperative Systemness Approach
Author:
Patrick Bobst, MSN, RN, CPAN, Perioperative Educator, TriHealth- Bethesda North
Abstract: There are a myriad of factors changing healthcare: the Affordable Care Act, an acceleration of mergers and acquisitions, increasing costs, and more astute patients and families, to name a few. In response to so many moving parts, TriHealth is continually looking for new ways to integrate delivery that achieves a high-performance continuum of care for patients and families. TriHealth's Perioperative educators from 2 separate locations (Bethesda North and Good Samaritan Hospital) have utilized the "systemness" approach. The educators collaborate weekly to focus equally on maximizing clinical operations and optimizing quality/safety and patient satisfaction which include the PACU/SDS/PSS departments. Implementing standardization, reducing variation and eliminating waste are the key objectives. There have been many successful collaborative projects, a few include: the standardization checklist for new team member orientations, and standardizing Airway Management simulation across periop:, the education roll out of new processes of TriHealth's Surgical Optimization Center (TSOC) and reconstituting Malignant Hyperthermia medications using different supply's:, using new technology and educating on Pyxis/Rover/EPIC changes:, building new reprocessing policies for Endoscopy scope cleaning in both locations. Lastly, the educators have been developing/editing a Perioperative newsletter that is distributed every other month to all of the TriHealth Surgical Perioperative leadership. The newsletter has helped strengthen relationships and build a sense of community by communicating each locations operations metrics, OAS CAPS scores, Joint Commission readiness tips, and site specific projects.
Use of a Discharge Information Sheet to Improve the Patient Experience Leading to Increased OAS CAHPS Scores in an Ambulatory Surgery Center
Authors:
Gloria M. Collura, MSN, RNC, Senior Administrative Director ll PCS, Center for Advanced Medicine Ambulatory Surgery Center/Northwell Health
Susan Miller, RN, Staff Nurse, Center for Advanced Medicine Ambulatory Surgery Center/Northwell Health
Michelle Pedalino, MSN, RN, CPN, Nurse Manager , Center For Advanced Medicine Ambulatory Surgery Center/Northwell Health
Maureen Early-Donohue, MSN, RN, Senior Administrative Director , Long Island Jewish Medical Center/ Northwell Health
Ellen Carpenter, BSN, RN, Nurse Manager Operating Room, CFAM Long Island Jewish Medical Center Northwell Health
Abstract: OAS CAHPS scores are scores which measure the patient experience with surgery performed at a hospital-based outpatient surgery department, or a free-standing ambulatory surgery center.  With anticipated public reporting in 2018 the OAS CAHPS survey was launched in 2016.  The finalized OAS CAHPS survey contains 37 questions, within the domains of facilities and staff, communication about procedure, preparations for discharge and recovery, overall rating of surgery center and willingness to recommend.  The scores, in the discharge domain, were not where they needed to be.  The OAS work group was formed and realized they had to change their way of educating their patients.

Susan Miller RN, pre-op/pacu nurse at Center for Advanced Medicine Ambulatory Surgery Center came up with an idea of a one page information sheet to ensure all educational areas were being addressed to all patients at CFAM.  Her idea was brought to the OAS workgroup, including the out-patient areas of our main facility at Long Island Jewish Medical Center, where the "information to help with your recovery" discharge information sheet was created.  This one page information sheet addressed the following domains:  Pain, Nausea, Bleeding, and Infection.  This sheet was given out to every patient upon discharge and the pacu/recovery nurses would go over it with their patient and family members using the teach back method to ensure understanding of the material presented to them.

Our scores for the discharge/recovery domain in 2016 were 80.5.  With the introduction of this one page sheet our scores went to 95.7 in 2017.  That is an increase of 15.2 percent.  We knew this process improvement method worked.   To continue to improve scores the page was translated to the top 4 preferred languages of our patient population. Our patients are safer and this process improvement showed a sustained improved patient experience as evidenced by our scores in 2017.
Use of Technology to Address No-shows & Canceled Procedures at a Pediatric ASC
Authors:
Jennifer Dickman, DNP, RN, CNP, Director, North Surgery Center, Children's Hospital of Pittsburgh of UPMC
Natalie McLane, MSN, RN, CPN, Unit Director Same Day Surgery/PACU, UPMC Children's Hospital of Pittsburgh
Susan Harvey, BSN, RN, CPN, Clinician, Same Day Surgery, UPMC Children's Hospital of Pittsburgh
Abstract: No-shows and cancelled procedures at an ASC have far-reaching effects on overall staffing, patient / parent satisfaction, and the bottom line. The pediatric ASC struggled with solutions to improve pre-surgical education for parents and guardians only to continue to see the amount of day of surgery (DOS) cancels and no-shows hold steady or even increase month to month. A new solution was found by partnering with the IT department of our Level I trauma hospital to develop a pre-DOS texting application that was already being used by different service lines within the hospital. This presentation will address how the ASC identified the challenges unique to being a free-standing facility and problem-solved a workable solution using existing technology.
Utilizing Procedure Pass for Enhanced Communication of Surgical Readiness
Authors:
Lisa Hess, MSN, RN, CNML, Manager PACU, Presurgical Services and Surgicare, Good Samaritan Hospital, TriHealth
Carolyn Hoenicke, MSN, RN, CPAN, Manager PACU, Presurgical Services and Surgicare, Bethesda North Hospital, TriHealth
Abstract: Purpose of this project was to find an electronic tool that would minimize redundancy of work while improving communication of patient and chart readiness for day of surgery, with and overall goal of improving team efficiency and enhancing patient safety.

Content: Procedure Pass is an Epic tool that allows the team to identify specific items required for DOS (testing, clearances, H&P, etc.) all in one place. The tool provides quick chart review for anesthesia, preop, and DOS teams. Labor intensive workflows for RN and anesthesia chart reviews were eliminated.

Strategies for implementation: In collaboration with IT, a "build" was developed for TriHealth Perioperative Services. Good Samaritan served as the pilot site for the system. Preop RNs and anesthesia were engaged in the project and educated on the use of Procedure Pass to communicate readiness for surgery as well as outstanding items. Surgicare team members were also educated to 'read' the Procedure Pass status board and the patient record. This provided a quick reference for testing, etc. needed DOS along with quick access to compiled records via links to actual documents.

Outcomes: Early data shows increased accuracy related to preoperative readiness of patient and record, increased efficiency of team, and the added benefit of a decreased paper trail. Procedure Pass has now been implemented at the other TriHealth acute care hospitals.
VIPER Lean Operating Strategy
Author:
Brandon Ballhaus, BSN, RN, CNOR, Manager, Minimally Invasive Surgery Center, Trihealth
Abstract: Many factors plague a perioperative department. Big or small, an operating room is susceptible to delayed turnover times, low percentage of first case on-time-starts, low room utilization, and a disengaged culture. Overcoming these common perioperative issues is the focus of V.I.P.E.R. This vision is achieved through implementing innovative processes that increase efficiency and reliability.  This lean operating strategy focuses on removing small barriers that may inhibit efficiency, creating an environment where a reliable positive experience is the priority. The results from implementing this strategy are quicker turnover times (TOT), better On Time Starts (OTS), increased surgical volume and an improved culture. VIPER has proven effective in both a small scale (one service) and larger scale (entire surgery center).

VIPER was originated in the Acute Care setting with one service line and saw a 18.33% reduction in TOT. The success of this new strategy lead to the opportunity to expand to an entire Surgery Center. In the first 5 months following VIPER implementation at the Surgery Center, we achieved our first month of perfect 100% OTS. This milestone was reach 5 times in the first year of the VIPER application, 3 of which were consecutive. We also saw our OTS from 60% in FY17 balloon to 95% in FY18. Also in the first year, there was 35% reduction in TOT and room utilization expanded 10%. The culture has also seen an improvement via team member satisfaction and surgeon engagement. Employee engagement scores at the Surgery Center utilizing the VIPER lean operating strategy are 7% higher than the National Average. The objective of VIPER is to continue to adapt and find innovative ways to enhance the experience our team members, surgeons, patients and their families.
Visibility Assessment of 2% Chlorhexidine Gluconate/70% Isopropyl Alcohol Preoperative Skin Preparations with Varying Tint Configurations on Dark Skin Tones
Authors:
Joan E. Paulson, BS, Clinical Research Specialist, Microbiologist, 3M Health Care
Dan J. Morse, MS, 3M Health Care
Muhammad H. Bashir, MD, Microbac Laboratories
Angela Hollingsworth, BS, Microbac Laboratories
Abstract: Introduction: Preoperative skin preparations are designed to reduce microorganisms on skin that may lead to a SSI. Proper and complete application is needed for the prep to achieve efficacy within the coverage area. Visibility of the preoperative prep on the patient's skin is a key indicator of complete coverage. To enhance visibility, a tint may be added to the prep solution. Does the preoperative skin preparation's tint impact the ability to assess complete coverage of the surgical site? In this study three 2% chlorhexidine gluconate (CHG)/70% isopropyl alcohol (IPA) products in their tinted configurations were applied to dark-toned skin and visibility was evaluated.

Methods: Nine healthy adult males with Pantone SkinToneŒŒ(TM)Œ ranging from 11 to 15 were recruited and enrolled into this prospective, randomized study. Three 2% CHG/70% IPA preoperative skin preparations with varying tint configurations (orange-tint, green-tint A and green-tint B) were applied to each volunteer's back per randomization schedule. Operating room nurses (N=30) provided visibility assessments for each test site using a 1-7 grading scale, where 1 was extremely difficult to see and 7 was extremely easy to see. The nurses were blinded to the study products. Skin irritation was rated pre- and post-product application and adverse events were collected.

Results: Average visibility ratings for green-tint A and green-tint B were 5.01 and 5.12, respectively, and 2.42 for orange tint. In paired average ratings, all 30 evaluators (100%) judged green-tint preps to be easier to visualize over orange-tint prep (p<0.0001). Paired ratings comparing green-tint A and green-tint B showed no statistical difference (p=0.59) in the ease of visibility between the 2 green-tinted preps. No skin reactions or adverse events were reported. Conclusion: On dark-toned skin, green-tinted 2% CHG/70% IPA preoperative skin preparations were easy to see and orange-tinted 2% CHG/70% IPA preoperative skin preparation was difficult to see.

This study was sponsored by 3M, and conducted by Microbac Laboratories, Inc. under contract with 3M.
VTE Prevention in the Pediatric Surgical Population
Author:
Maria Sullivan, MSN, RN, CNOR, Nursing Education Specialist, Monroe Carell Jr. Children's Hospital at Vanderbilt
Abstract: Pediatric Venous Thromboembolism (VTE) was once thought to be a rare event. Several studies have now proven that VTE in the Pediatric Surgical Population does occur, perhaps in greater frequency. There are no current national guidelines on prevention of VTE in the pediatric population.

The current national VTE guidelines are based on studies done on adults. Some of the elements can be applicable to the pediatric population, especially in the post pubertal phase. The multidisciplinary Perioperative Quality Team worked to define a nurse driven protocol for VTE prevention in the pediatric surgical population.

The multidisciplinary perioperative quality team reviewed the literature, recommendations from other children's hospitals and searched for national guidelines.

There are no national guidelines for VTE prevention in the pediatric surgical population.

Cincinnati Children's Hospital has a Best Evidence Statement on VTE prevention in the pediatric population.

The Perioperative Quality Consultant and Educator worked with the key stake holders on a clinical practice guideline for our hospital, and the perioperative nursing education specialist educated staff in both the OR and Holding Room on the criteria for using SCDs on pediatric patients to prevent VTEs. A staged roll out was done by surgical service with all services with patients meeting criteria on board with the placement of SCDs within 3 months.
Warm Welcome
Authors:
Pui San Voo, RN, Nurse Clinician, Singhealth/Singapore General Hospital
Edison Priyantha Ebenezer, Mrcpch (UK), Neonatologists, Singhealth/Singapore General Hospital
Abstract:
The objective is to reduce incidence of hypothermia in all newborns by 75% within 9 months in Major Operating Theatre, Singapore General Hospital (SGH).
World Health Organization (WHO) defines newborn hypothermia as when the newborn body temperature drops below 36.5
o
C. Newborn may lose heat to environment by radiation, convection, conduction and evaporation. Although hypothermia rarely contributes to the main cause of death, it is an important contributor to the neonatal morbidity and mortality. WHO recommends maintaining a warm chain and skin-to-skin care for thermo-protection of newborn. The hypothermia data collected from March to April 2017 showed 59.1% of the newborns suffered from hypothermia and that, it takes up to 40.5 minutes for these newborns to reach normothermia.


Strategies for implementation


The project includes all newborns delivered in the labor ward and/or in the Operating Room (OR). Obstetricians, Anesthetists and OR nurses were updated of the necessary changes by the team members. The following strategies were implemented in the OR and labor ward.
In the OR:


"Breast feeding policy to support baby friendly hospital initiatives" was revised. Newborn will be placed longitudinally on the mother's chest and both of them will be keep warmed air via a warming blanket.


Facility Management & Engineering (FME) will set the room temperature and humidity to 25oC and between 50% and 60% respectively.


In the labor ward:


Switched on the radiant warmer to 100% heater output and switched off the draught prior delivery.




Dried the newborn immediately and hand over to midwife who will put on a customized stockinette cap over the newborn's head.


The preliminary data collected two months after implementation showed a positive outcome. There was a significant reduction in incidence of body temperature loss on the newborns after they were admitted to neonatal ward. We continue to collect data and will still monitoring all newborns born in SGH.